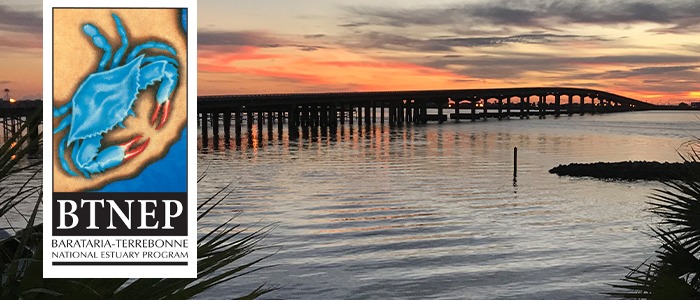 Make a difference when you travel
Here are 5 ways the Barataria-Terrebonne National Estuary Program suggests to make your travel plans more eco-friendly this summer
Summertime is right around the corner, which means rising temperatures and sunshine, time outdoors, and if you're lucky — vacation time! If you're vacationing this summer, there are several ways that you can help protect the environment while you travel. Here are five ways to make your travel plans more eco-friendly this summer:
1. Reduce your CO2 emissions:
Make sure your car tires properly inflated — properly inflated tires are not only safer, they also last longer, and can improve your gas mileage by more than 3 percent.
Tune your engine —  fixing a car that is out of tune can improve its gas mileage by about 4 percent, according to the U.S. Department of Energy.
Choose non-stop flights — Choosing non-stop flights when available can help reduce the carbon footprint of your travel.
2. Use marine-safe sunscreen:
Each year, it is estimated more than 14,000 tons of sunscreen ends up in marine ecosystems. Oxybenzone, a common chemical in sunscreens, is very toxic to coral reefs. The chemical can cause DNA damage, endocrine disruption, exacerbate coral bleaching, and can ultimately kill the coral. You can help by choosing mineral based sunscreens made with titanium oxide and zinc oxide, or opt for cover-ups, umbrellas, and hats as an alternative to sunscreen creams or sprays.
3. Bring your own bottle and utensils:
You can reduce your non-recyclable plastic use by bringing along your own glass or metal water bottle to refill instead of buying bottled water. Not only is this an eco-friendly option, you'll also end up saving money, too! You can also consider carrying your own reusable straws or cutlery that can be washed and reused.
4. Respect the wildlife:
Keep a safe distance — human interaction with wildlife can alter natural behavior patterns, creating problems in the future, including a dependency on humans.
Don't be a danger to the animal or yourself — Wild animals, if approached can be an endangerment to both yourself and the animal. Wild animals may attack if they feel you're a threat to their territory or offspring. Alternately, if you scare an animal away, they could retreat to dangerous areas like into oncoming traffic.
Never feed wildlife — Human food can often make animals sick, and upsets the natural food chain. Animals may also become dependent on humans to feed them, and lose the instinct and ability to find food on their own.
5. Try the "leave no trace" challenge:
Never litter — cigarette butts, bottles and cans, and single-use bags are some of the most common, non-biodegradable littered items — especially on beaches. Always make sure your disposables are recycled if possible, or put into the trash when you leave.
Pack light and smart — Plan ahead to cut down on items that may need to be disposed of once you've reached your destination. Buy snacks and beverages in bulk to cut down on packaging, and choose eco-friendly options like reusable totes instead of plastic bags, or reusable/biodegradable ice chests instead of styrofoam.
Leave the area better than when you arrived — Beaches and parks are often heavily littered areas — challenge yourself and others in your party to pick up five pieces of existing litter before you leave.
Your efforts to make conscious, eco-friendly choices while you vacation help to ensure the areas we enjoy visiting will remain beautiful for years and generations to come.
Can't take a vacation this year? Try an Estuary "Staycation"
Our estuary is a bountiful and beautiful place to explore! Here are five places you can visit this summer right within the Barataria-Terrebonne Estuary System:
Grand Isle State Park – If you love splashing in the waves or lounging on a beach, the Grand Isle State Park is for you! With miles of sandy beaches, breathtaking sunsets, fishing, bird watching and more, this destination is great for family getaways. Don't forget to pack your mineral sunscreen!
Mandalay National Wildlife Refuge Nature Trail – Established in 1996, the Mandalay National Wildlife Refuge is 4,519-acre refuge composed of cypress-tupelo swamp and freshwater marsh. While most of the refuge is only accessible by boat, you can take a short walk down the ¾ mile in and out nature trail to spot wildlife and take in the beauty of the refuge. Don't forget your eco-friendly bug spray!
Lockport Elevated Wetlands Boardwalk — If you're looking for a dog and family-friendly activity this summer, look no further than the Lockport Elevated Wetlands Boardwalk. At 440' long, this elevated boardwalk winds through wooded areas and swamp for a beautiful glimpse of the Louisiana wetlands, that's appropriate for all ages. If your family dog is coming along, remember to grab a leash!
Bayou Segnette State Park — A kid-friendly option, this campsite offers boating, fresh and saltwater fishing, canoeing, and playtime in a wave pool, all while being able to view the beauty of our estuary through the swamps and marshland. Grab your family and your fishing poles, and get ready for a great time!
Canoe down Bayou Morgan City to Bay Sherman — If paddling is more your style, grab your canoe or kayak and head down Bayou Morgan City until you enter Bay Sherman. While it's a great location for fishing and spotting wildlife, the most dazzling part of this trip is viewing the massive cypress trees. In the 1940s, many of Louisiana's swamps were logged, but a few trees were left behind, and this is one of the best places to find them. Be sure to grab your camera to snap pictures, and check out our Paddle Guide!
Photo courtesy of Robert Vegas, Grand Isle.