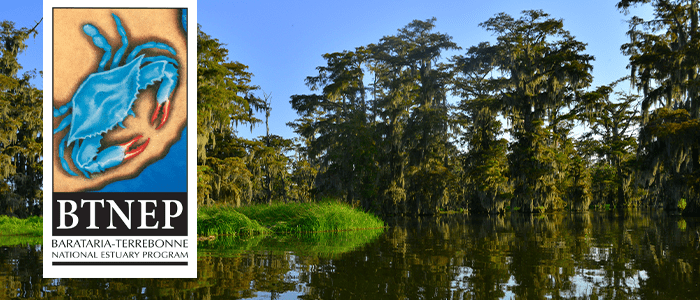 Bayou Lafourche: How A Winding Waterway Weaves Itself Into Your Everyday Life
Spring is in full swing and summer is quickly approaching, and while beauty never leaves our estuary throughout the seasons, we must admit that this is one of our favorite times of the year to explore our estuary — especially its waterways! We're treated to new plant, animal, and aquatic life bursting at every turn, and sunshine that begs to be soaked in. And while it may be one of the most beautiful times to view and visit the Barataria-Terrebonne National Estuary, you may notice something not so beautiful — litter and pollution.
Unfortunately, our estuary is no stranger to littering and improper trash disposal. Our booming tourism industry, populated towns throughout, and our love of outdoor events and activities all place stress on our environment. As an unfortunate result, large amounts of litter, trash and debris are the inevitable byproducts that often end up degrading the fragile ecosystem of our estuary and its waterways. These waterways, such as Bayou Lafourche, are extremely susceptible to the negative impacts of pollution.
Bayou Lafourche, first known as "LaFourche Des Chitimachas" to early settlers and map makers, is a 106-mile long waterway that weaves through South Louisiana — from Donaldsonville, all the way "down the bayou" to the Gulf of Mexico. But what exactly makes Bayou Lafourche so vital to our estuary and its inhabitants?
---
The Importance of Bayou Lafourche
Often referred to as "the longest Main Street in the world," Bayou Lafourche is a vital lifeline to the wildlife that lives within and around its banks, as well as the many residents and homes that line its levees. Our community utilizes the bayou in many ways, making it an integral part of our lives; so much so, you may often hear locals refer to their own location in relation to Bayou Lafourche — whether it's "up, down or across the bayou." The bayou also serves as a means of travel and transportation, an irrigation source for local agricultural crops, and a place that's abundant with food and recreation — a "fisherman's paradise." But if you're living within the bayou community, you may not realize that Bayou Lafourche is a crucial part of your day, every single day.
Did you know that Bayou Lafourche is the drinking water source for over 300,000 residents in Lafourche, Terrebonne, Assumption, and Ascension parishes? Thanks to the hard work of our friends at Bayou Lafourche Fresh Water District (BLFWD), the murky freshwater of Bayou Lafourche is transformed into the beautiful clean and clear potable tap water you run from your faucets, shower, toilets, and more within and around your home or business.
But as our parishes and population expand, the demand for potable water is steadily increasing, and Bayou Lafourche and those who depend on its resources need your help. The bayou is up against quite a few pollution factors, most of which are man made. Not only does this make BLFWD's job harder, it can also pose a threat to the health and safety of the bayou's wildlife and the citizens who use it. For example, items such as plastics, home appliances, derelict crab traps, fishing equipment, or vehicle parts littered directly into the bayou or its banks pose a threat in multiple ways: from the things we can see like large physical obstructions that may keep boats or other vehicles from traversing the bayou, to the things we can't see, like trash and debris leaching harmful chemicals into the water. Unfortunately, Bayou Lafourche's pollution and water quality issues extend far beyond on-site dumping of trash and debris — often, the issue hits much closer to home. Malfunctioning home sewage systems within the Bayou Lafourche watershed allow large quantities of fecal coliform bacteria to enter the bayou, which can cause human sickness, and threaten fish and aquatic life. Additionally, the common overuse of tap water within homes and businesses results in higher volumes of wastewater that needs treatment.
So now you know why Bayou Lafourche is so important, and how its health is being threatened, but you may be wondering…how can I help? Luckily there are several simple solutions to help keep Bayou Lafourche clean, minimize your own impact, and reduce your water usage.
---
Get Involved with BTNEP
BTNEP Events – Keep up with our social media to be the first to know about any events BTNEP is hosting, such as our Annual Paddle Bayou Lafourche or our Annual Bayou Lafourche Cleanup.
BTNEP Home Sewage Assistance Program – One of the largest threats to Bayou Lafourche's health is malfunctioning sewage systems from homes within the bayou's watershed. For more information about the Home Sewage Assistance Program, view the flyer, or to see if you qualify contact SCPDC at 985-851-2900.
BTNEP School Water Bottle Refill Stations — Plastic beverage bottles are one of the most littered and discarded items in the world. In an effort to combat this within local schools and with the help of a generous donation from Hess Corporation, BTNEP has installed water bottle refilling stations in 13 local schools within the estuary. Due to the success of the project, Hess has reinvested in this project for 2022. To inquire about getting a free water bottle refilling station at your school of choice, please contact BTNEP at nicole@btnep.org.
---
Get Involved at Home
Report Illegal Dumping — Dumping trash in and around the bayou is illegal. If you see illegal dumping, please report it to BLFWD by phone at 985-447-7155 or by email at ben.malbrough@blfwd.org.
Don't Litter — This one may seem obvious, but littering is still a very large problem within our estuary. When you're out and about, always make sure to pick up any items you may have brought with you, and properly dispose of or recycle any items you may be discarding. You can also choose reusable items such as metal straws, travel cutlery, or reusable beverage bottles to minimize your waste, and go the extra mile by picking up trash left by others.
Conserve Water Usage Indoors — By minimizing your household or business's water usage, you will in turn decrease the amount of water that needs to be treated by local facilities. You can easily reduce your water usage by waiting to run the dishwasher or to wash laundry until the appliances are full, choosing energy efficient appliances, taking shorter showers, or simply turning off the water while you brush your teeth.
Conserve Water Usage Outdoors — With spring gardens and lawns in full bloom and rising temperatures, your water consumption will likely go up around this time of year. To reduce your water usage you may consider installing a rain barrel to harvest rainwater, choose native plants that are acclimated to the climate and won't need excessive watering, water during the early morning or evening hours when the water is less likely to evaporate from heat, and use rich organic soil and mulch to better retain water around your yard or garden.
---
Thank you for your help in keeping our historic, culturally-rich, and bayou-centered estuary clean so it can be enjoyed by residents and visitors for years to come. For more information about the work BTNEP does within the Barataria-Terrebonne National Estuary, please visit btnep.org.