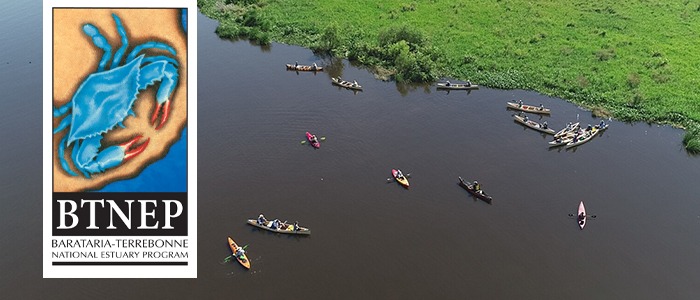 Row, row, row your boat gently through the estuary
Fall has arrived, and with the season's arrival comes hopes of cooler temperatures lower humidity, and a chance to enjoy the peace of nature before the holiday season starts. This shift of seasons often draws people outdoors to bask in the beauty of the changing seasons. One of our favorite ways to enjoy the beauty of the estuary during the fall is with a paddle trip. Paddling, whether by canoe or kayak, is a great way to discover the beauty of our estuary and allows a chance to quietly observe wildlife in a relatively undisturbed setting. Fall and spring are typically the best seasons for paddling as temperatures drop, bringing gentle breezes and calm waters, fewer insects, and the ideal climate for bird watching and sighting alligators while they sun on the banks.
Paddling offers excellent views of our estuary, but the activity in itself has its benefits as well. Paddling is a great low-impact activity appropriate for most ages. While it generally seems like a leisurely activity, it's actually a great form of exercise as well. When a person is paddling the entire body is engaged, not just their arms. This full-body motion builds lean muscle, increases endurance, and burns calories — even as much as 400 calories per hour! 
New to paddling? Here's some things you should know before hitting the water: 
Mind the Tide:

High tides are ideal for paddling. Low tides can create issues with shallow water, muddy banks and launches, and poor fishing conditions.

Check the Weather:

Most Louisiana residents know how unpredictable the weather can be. Check the forecast before setting out, so to not get stuck in poor weather while out on open water. If you do get caught in bad weather, always get off of the water if lightning strikes.

Be Prepared:

Always pack and wear a personal flotation device (PFD), eco-friendly sunscreen and bug spray (even in cooler months), water and light snacks. 

Notify a Friend:

If you're venturing out alone, always make a friend or family member aware of your tentative route and the amount of time you plan to be out on the water. Accidents can happen or you may find yourself lost at a wrong turn, so it's always best to make sure someone knows where you may be. 

Launch with Care:

Finding a spot to launch a canoe or kayak simply takes a spot with public access to the water and parking. Be mindful of parking as far off of the road as possible for your and other drivers' safety.

Posted means Private:

Smaller coulees, sloughs and canals sometimes lead into private property before they dead-end. Be mindful of signs listed as "Private Property" or "Posted" — this means no trespassing. 
Interested in taking a paddling trip? We're here to guide you along the way. 
Join us for our annual Discover the Estuary Paddle Trip! This year's trip is an 11-mile guided paddle tour, for participants in canoes or kayaks, that will be held in and around Southern Lake Verret on October 11, 2019. The event offers a unique experience throughout the winding waterways that our estuary offers, with knowledgeable BTNEP staff members to guide you along the way. This trip is a great introduction to paddling for newcomers and advanced paddlers alike. 
For more information about this year's Discover the Estuary Paddle Trip or to register, visit: http://bit.ly/discover-estuary-paddle or contact Nicole at nicole@btnep.org or 985-447-0868. Registration is required for this trip.
For more information about where to paddle within our estuary, check out our Paddle Guide.