This release has been distributed by the Louisiana Governor's Office of Homeland Security & Emergency Management.
State EOC Activation Level: Level IV (Crisis Action Team) | WebEOC Incident: 19-007 River Flooding — Statewide — Spring | State Declaration Proclamation Number: 33 JBE 2019
SITUATION: The National Weather Service has issued a flood warning along the length of the Mississippi River with predicted river crests well above flood stage in many locations. Rivers forecasted to enter moderate or major flood stage can be found at the end of this report.
*UPDATES IN RED TEXT*
STATE ACTIONS – All State Agencies are on Standby and Monitoring the Situation
GOHSEP 
State Declaration 2/27/19.
Created WebEOC Incident 19-007.
Regional coordinators are forwarding reports from parishes.
Coordinating any resource requests from parishes.
Army Corps of Engineers (New Orleans)
There are currently 167 inspection sites, 6 of which are medium priority points.

The MVN EOC is activated at Level I (24 hours, daily).
The Bonnet Carre Spillway is open. 148 out of 350 bays are open.
There are currently 160 personnel supporting the event (107 Field/53 Office).
No subsurface work within 1,500 feet of the MRL is permitted.
No more waivers will be granted for stages above +15.0 ft. at the Carrollton gage.
ESF-13 Department of Corrections:
The Louisiana State Penitentiary is working with USACE to make repairs to a slide in the interior levee near mile marker one.

Angola has received 40,000 sandbags and 12 rolls of visqueen from the Corps of Engineers to begin making the repairs to this slide.

Angola (LSP) began making repairs to the slide discovered in December. They placed 300 bags down on the slide area and have 200 bags filled and are ready to proceed with the mission on March 7.

A trustee crew of three officers and nine offenders from EHCC was sent to Assumption Parish at the request of the Sheriff to assist in preparing sandbags for distribution.

March 3 the offender crew and officers from EHCC continued in Assumption Parish, filled 3,000 sandbags, and loaded two cargo trailers with sandbags filled previously for Assumption Parish.

March 4 about 5,200 sandbags were filled.
PARISH ACTIONS
Region 2
Pointe Coupee Parish:
Only roads impacted are roads located outside of levee protection.

Atchafalaya Levee board has sand and sand bags on standby. Parish has supplies on standby also.

Camps along Old River have had power disconnected.

Some camps along Old River have taken water. No official count at this time.

Continuing to monitor and update stakeholders.

Sheriff's office is updating Search and Rescue plans and inventorying equipment.
West Feliciana Parish:
Declaration submitted 3/01/19.
Flooding has caused a voluntary evacuation of homes and recreational properties.

Nine people have voluntarily evacuated.
Approximately ten homes have been evacuated. Four of the homes have water in them and six have no access by road.
Approximately 60 structures affected.

Law enforcement is performing patrols around flooded evacuated areas.
There are multiple road closures due to flooding.
Sandbags made available at WFPSO CRT HQ.
Region 3
Assumption Parish:
Declaration submitted 3/01/19.
Terrebonne Parish:
Declaration submitted 2/26/19.
Region 4
St. Martin Parish:
Declaration submitted 3/4/19.
No Wake Emergency Order for Lower St. Martin Parish was signed by Parish President effective February 23, 2019.
Part of Hwy 70 in underwater. Local DOTD will place high water signs as needed.
Region 6
Catahoula Parish:
Declaration submitted 1/03/19.
Tensas Basin Levee District is closing drainage structures due to high river stages.

Black River closed drainage structures:

Ralph Parker, Hudson, Grassy Lake, Glade Bayou, Parker Bayou, and Paulk.

Ouachita River closed drainage structures:

Bunge, Wallace Lake, Tew Lake, Upper Jug Rd., Lower Jug Rd. Bayou Louis, Coopers, and Alexanders.

Little River closed drainage structures:

Bradford, Calhouns, French Fork, Wilson, Archie Terminal, Taylor, Fannin, Savage, Peyton 1 & 2, Lucas, CCA, Colclasure, Freds, Jack Knapp, Magnolia Hill, Hwy 124,and Levee Board.

Tensas River closed drainage structures:

Roarks, Little HaHa, Powell, Airport, Kassel, Caters, Evans, Cash Bayou, Blaney, Watson, Maitland Bridge, Maitland, Skipper, Crawford, Fool River, Condray, and Macon Ridge.

DOTD is closing parts of roads as needed due to high water.
Approximately 100 head of livestock have been relocated.
Concordia Parish:
Declaration submitted 2/28/19.
Water wells and other critical infrastructure are at risk.

The lowest water well that services the town is secured.
The drainage system that serves Front Street on the Riverfront is closed off to gravity flow and rely on pumps for any rainwater.

The Town of Vidalia has secured their sewer treatment plant with flood barriers in the locations needed. They will continue to monitor the increasing pond levels.
The Police Jury President has closed Lake St John to recreational boating traffic because of higher than normal levels.
Region 8
Morehouse Parish:
Declaration submitted 2/25/19.
Flooding has affected an estimated 10 homes and 5 mobile homes.
As of 3/01/19 floodwaters have receded, all roads are back open, all schools are in session, and the parish is back in normal operations.
Tensas Parish:
Declaration submitted on 3/01/19.
Some local roads are becoming inundated. Hogue Road just east of the mainline level is nearly impassable.
Numerous people are attempting to move mobile homes (camps) down Hogue Road to the west side of the levee.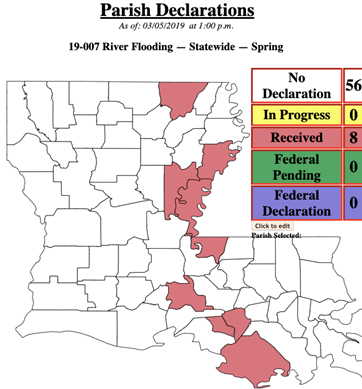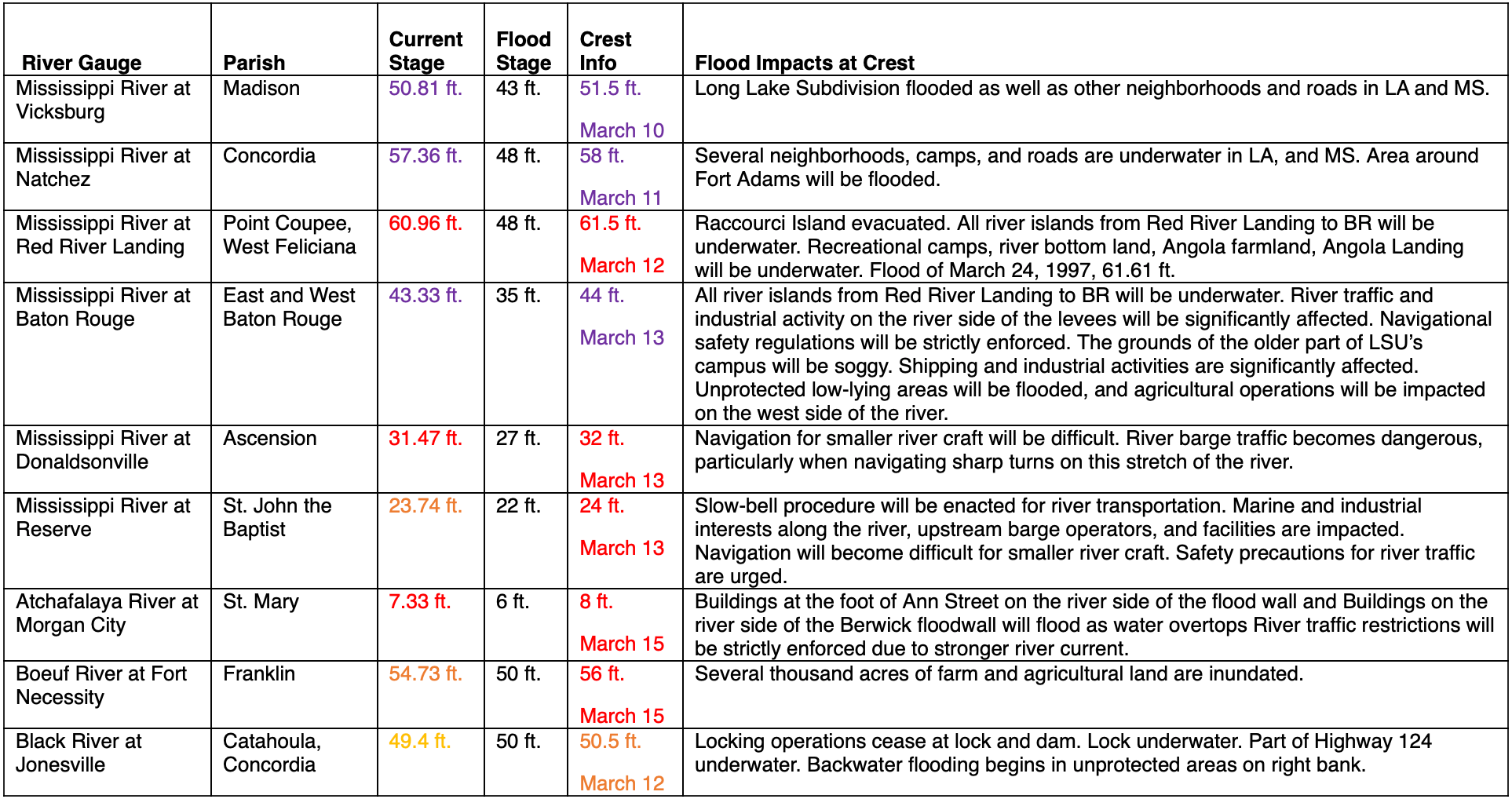 To view updates on current and forecasted river levels, visit https://water.weather.gov/ahps/forecasts.php
GOHSEP Operations is monitoring the situation and will publish updates as necessary.
For more information, please visit your local NWS weather forecast office webpage. www.getagameplan.org | www.weather.gov | www.ready.gov