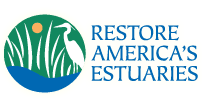 Restore America's Estuaries is excited to partner with CITGO to provide grants to organizations and groups interested in hosting National Estuaries Week events in the Gulf of Mexico region. These grants are intended to provide groups with funding to host new events, or to increase the impact of existing events, in celebration of National Estuaries Week.
In 2017, this program awarded grants to eight organizations who together engaged more than 3,400 volunteers, collected 146,000 pounds of trash, cleaned 450 miles of shorelines, restored 65 acres of coastal land, and planted more than 2,100 trees.
Eligibility:
Applicants must be a registered non-profit, government entity, or community organization
Funded project must be located in the Gulf of Mexico region
Evaluation Criteria: 
Potential for this funding to increase event capacity
Expected impact of the event on local communities and ecosystems
Potential of the event to increase the reach and impact of National Estuaries Week
Demonstration of community engagement and outreach
Funding need
To learn more about this grants program, eligibility, and requirements, please download the full Request for Proposals.
To apply, download and complete the Grant Application form. Completed applications can be emailed to grants@estuaries.org. Applications are due no later than 11:59 p.m. Eastern on August 3, 2018.
To view the original information, please visit the Restore America's Estuaries website.